You know that famous scene at the end of FIELD OF DREAMS where Kevin Costner is playing catch on the baseball diamond he's struggling to hold onto and the line of cars coming to see what he's built stretches for miles into the distance? Well, the web doesn't work like that. Kevin would have gone bankrupt online and lost the family farm.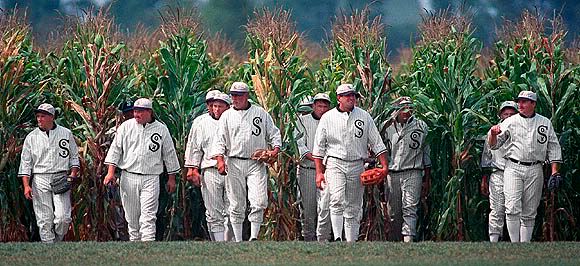 Perhaps you wake up one day and receive a tip from the cornfields, your inner self, or whatever angels or demons you believe in, "If you build it, he will come." And based on this inside information, you spend weeks and thousands of dollars building the website of your dreams. Then you launch it and wait for the flood of people to come and check out what you're up to. And wait. And wait. And wait. It's a scenario I've seen play itself out time and time again among my clients.
While many people do make their dreams come true online, but the model is closer to community supported agriculture than a field of dreams. First you carefully select the crops you know your customers want to buy that also grow well on your land at that time of year. Then you bring your products to the farmer's market so your target client can find you easily, rather then waiting for them to drive out to the family farm and find you (sorry Kevin). On market day, you spread out your goods and set up a few signs with the weekly specials, so casual passersby can tell at a glance what you offer. Then you cut up your freshest, juiciest fruits and put them out as free samples to draw people to your table. People taste your strawberries and notice how sweet and delicious your product is, even if they don't buy anything, so the next week they come back and try another sample. And another. And soon they feel like they know and trust you and come by every week, buying a head of lettuce here and a carton of strawberries there until they're tired of coming to you and sign up for your weekly CSA delivery program so you can bring fresh produce to them.
At this point you may be nostalgic for that cheesy eighties movie, back when life was simpler and all you had to do was "build it" and they would come. Before you go too far down memory lane, remember that Kevin was just trying to get $20 from each car that pulled up so he could get out of debt quick. Rather than making a quick one-time sale, the web offers a tremendous opportunity to build trusting long-term relationships with your client base. A relatively small, carefully nurtured mailing list can generate tens or even hundreds of thousands of dollars in passive income each year. Which would you rather have?